PENGEMBANGAN DAN PEMBUATAN MATERI AJAR KOMPONEN ELEKTRONIKA BERBASIS MEDIA PEMBELAJARAN SOFTWARE LECTORA INSPIRE
Candra Hidayat

Universitas Negeri Padang

Putra Jaya

Universitas Negeri Padang
Keywords:
Teaching Material, Electronic Components, Learning Media, Lectora Inspire
Abstract
This study aims to produce teaching materials for electronic components based on Lectora Inspire software learning media in order to get a decent performance. Creating this media is designed by using the waterfall model software design methods, and it is including: 1) Design, 2) Architecture and Interface Design, 3) Coding/Programming, and 4) Testing. The feasibility test to the results of the development and creating of electronic components teaching material based on Lectora Inspire software was carried out on three main aspects, which consist of the software aspect, the media display design aspect, and the benefit aspect. Based on the results of the feasibility test which was conducted by two media experts. From this, it was obtained the data that, first, the average  score of the software aspect was 17, the average score of the media display design aspect was 45.5, and the average score of the benefit aspect was 3. Thus, the average total score was 65.5 of 72. If it refered to the Likert scale table, it showed that the total score which has obtained can be interpreted that the teaching material was categorized as a very decent.
References
M. Indonesia, "Merdeka Belajar Menuju Pendidikan Ideal," 18 Desamber 2019, 2019. https://mediaindonesia.com/read/detail/278427-merdeka-belajar-menuju-pendidikan-ideal (accessed Feb. 10, 2020).
A. Arsyad, Media Pembelajaran. Jakarta: PT. Raja Grafindo, 2015.
N. Afifah, "Problematika Pendidikan di Indonesia," Elementary, vol. 1, no. 1, pp. 41–47, 2015.
Anis Mahmudah and A. P. Ningsih, "PENGEMBANGAN MEDIA PEMBELAJARAN INTERAKTIF BERBASIS LECTORA INSPIRE PADA MATERI JURNAL PENYESUAIAN UNTUK SISWA KELAS X AKUNTANSI DAN KEUANGAN LEMBAGA SMK NEGERI 1 TEMPEL TAHUN AJARAN 2018/2019," J. Pendidik. Akunt. Indones., vol. 17, no. 1, pp. 97–111, 2019.
B. Warsita, "Teknologi Pembelajaran, Landasan, dan Aplikasinya." Rineka Cipta, Jakarta, 2008.
B. Wulandari, N. Hasanah, S. A. Dewanto, and M. I. Mahali, PEMBUATAN MEDIA PEMBELAJARAN DENGAN LECTORA INSPIRE. Yogyakarta: UNY, 2017.
Mas'ud, Membuat Multimedia Pembelajaran dengan Lectora. Yogyakarta: Muhamad Pustaka Shonif, 2012.
A. . Rosa and Muhammad Salahuddin, "Rekayasa Perangkat Lunak: Terstruktur dan Berorientasi Objek." Penerbit Informatika, Bandun, 2014.
N. Sudjana, "Penelitian Hasil Proses Belajar Mengajar." Remaja Rosdakarya, Bandung, 2009.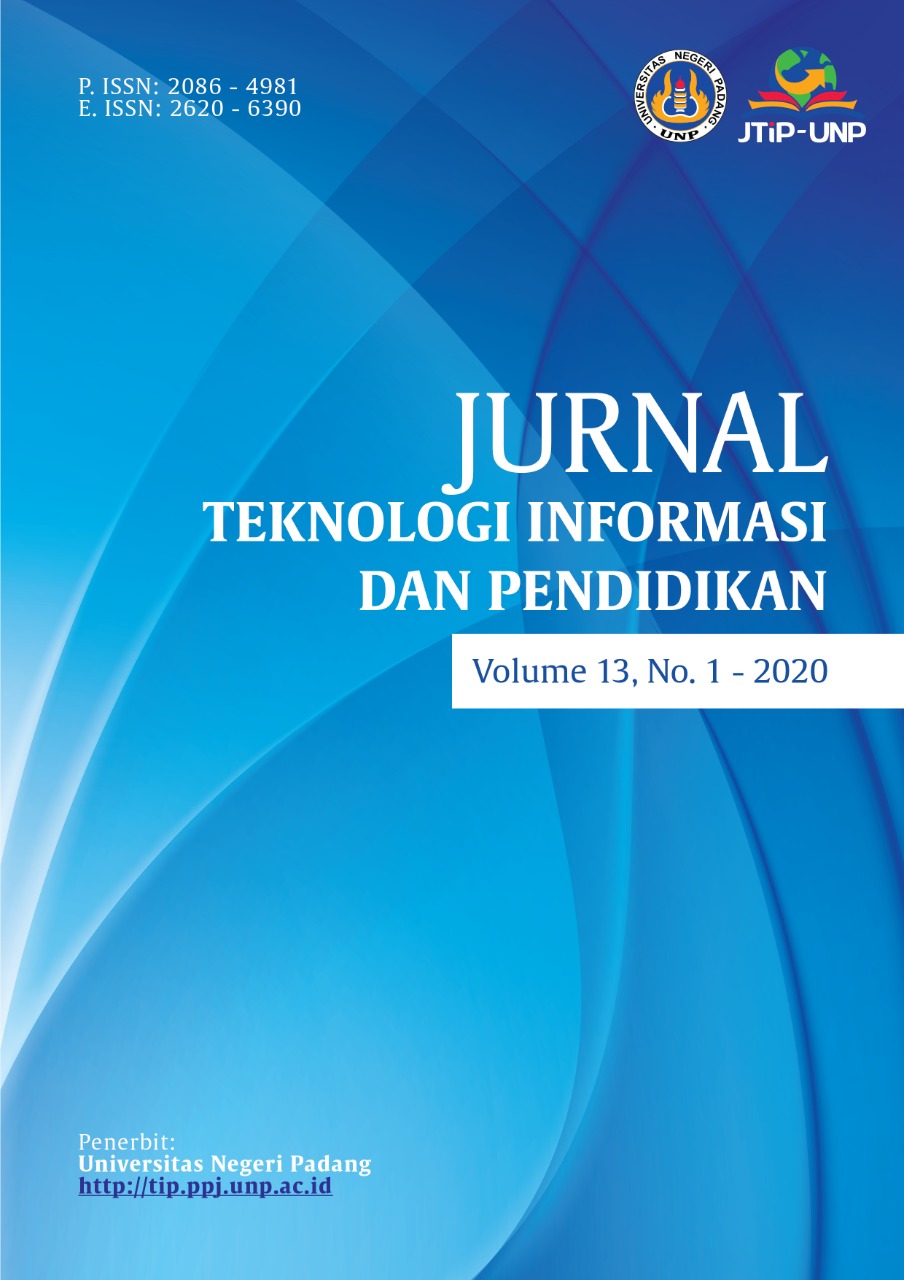 How to Cite
Hidayat, C., & Jaya, P. (2020). PENGEMBANGAN DAN PEMBUATAN MATERI AJAR KOMPONEN ELEKTRONIKA BERBASIS MEDIA PEMBELAJARAN SOFTWARE LECTORA INSPIRE. Jurnal Teknologi Informasi Dan Pendidikan, 13(1), 96-103. https://doi.org/10.24036/tip.v13i1.299
Copyright (c) 2020 JTIP: Jurnal Teknologi Informasi dan Pendidikan
This work is licensed under a Creative Commons Attribution-ShareAlike 4.0 International License.

Abstract viewed = 67 times PDF (Bahasa Indonesia) downloaded = 21 times