THE IMPLEMENTATION OF INTERACTIVE MULTIMEDIA WITH MACROMEDIA FLASH 8.0 IN BIOLOGICAL LEARNING AT SMK IBRAHIMY 2 SUKOREJO
Dyan Yuliana

STKIP PGRI Situbondo

Achmad Fauzan Azzubair
Abstract
Implementation of computer applications such as GSP, Adobe Flash CS 4, Macromedia Flash 8.0, and others as an interactive and efficient learning media is something that must be done in order to improve the quality of the process and the results of learning. Included in SMK Ibrahimy 2 Sukorejo the application of technology media in absolute learning is done in order to achieve the expected quality of education and learning outcomes, especially in subjects / materials / learning objects that are difficult to present in the classroom, such as in Biology, which requires not only delivered through stories but through evidence that can be presented in a concrete manner can be seen in front of students, then using the Macromedia Flash 8.0 application media is expected to increase the achievement of competencies expected in each Indicator. This study aims to apply learning media with systematic steps in accordance with the rules in applying the learning media of Biology Vocational High School class X using the Macromedia Flash 8.0 Program and knowing the feasibility of the developed Information and Communication Technology learning media software. This research is a development research conducted with four main stages namely: analysis, design, production and evaluation. The results show that: (1) This learning media has gone through the systematic steps of development research which include the stages of: analysis, design, production and evaluation. (2) the quality of instructional media is based on the results of trials on the intended students in both categories with an average score of 3.7. Thus it can be concluded that this Biology learning media product has fulfilled the rules of research and application and is effectively used in the learning process for students of class X SMK Ibrahimy 2 Sukorejo.
Keywords : Interactive Multimedia, Macromedia Flash 8.0, Biology Learning.
References
A. D. Samala, B. R. Fajri, F. Ranuharja, and R. Darni, "PEMBELAJARAN BLENDED LEARNING BAGI GENERASI Z DI PERGURUAN TINGGI (STUDI KASUS: PENDIDIKAN TEKNIK INFORMATIKA UNIVERSITAS NEGERI PADANG)," J. Teknol. Inf. dan Pendidik., 2020.
Akhmad Badri, "Development of Website-Based Macromedia Flash Learning Media on Linear Program Material in Class XII SMA", thesis, UIN Sunan Ampel, Surabaya, 2012.
Andriyanto, "The Effect of Using Meida Learning Mcaromedia Flash 8.0 on Science Learning Outcomes of Class V Students at SDN Kebumen 1", essay, Satya Wacana Christian University, Salatiga, 2012.
Anggra, Understanding the Basic Techniques of Making Flash-Based Games, Gava Media, Yogyakarta, 2008.
Azhar Arsyad, Learning Media, PT Raja Grafindo Persada, Jakarta, 2011.
Daryanto, Learning Media, PT. Gava Media, Yogyakarta, 2011.
Saiful Arifin, "Procedure and Effectiveness of Learning Media Development Book Matnul Ghoyah Wat Taqrib Chapter Hajj Using Macromedia Flash 8.0 in Pesantren Luhur Al-Husna Surabaya", Essay, IAIN Sunan Ampel, Surabaya, 2008.
Sukardjo, Physical Chemistry, Rineka Cipta, Jakarta, 2005.
Sultan Muhammad Zahirul Alam, "Utilization of Learning Media Using Macromedia Flash 8.0 in Teaching Jenazah Prayers at SMP Islam Sidoarjo", thesis, UIN Sunan Ampel, Surabaya, 2012.
W.R. Borg and M.D. Gall, Educational Research: An Introduction, Fifthy Edition, Longman, New York, 1989.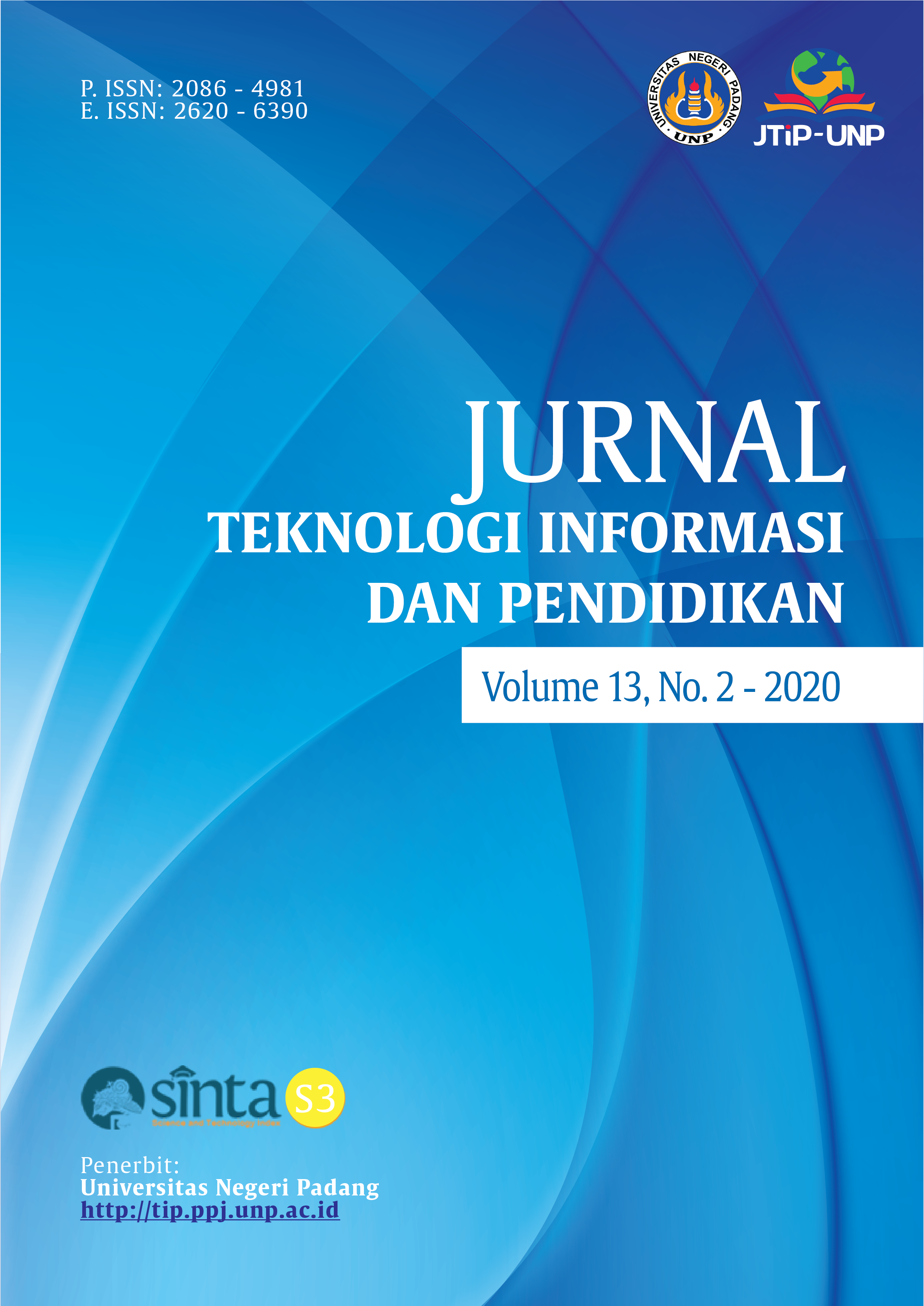 How to Cite
Yuliana, D., & Azzubair, A. (2020). THE IMPLEMENTATION OF INTERACTIVE MULTIMEDIA WITH MACROMEDIA FLASH 8.0 IN BIOLOGICAL LEARNING AT SMK IBRAHIMY 2 SUKOREJO. Jurnal Teknologi Informasi Dan Pendidikan, 13(2), 62-68. https://doi.org/10.24036/tip.v13i2.333
Copyright (c) 2020 Jurnal Teknologi Informasi dan Pendidikan
This work is licensed under a Creative Commons Attribution-ShareAlike 4.0 International License.

Abstract viewed = 61 times PDF downloaded = 26 times