DESIGN AND BUILD A PHOTO STUDIO MARKETPLACE IN THE CITY OF PADANG USING THE CODEIGNITER FRAMEWORK
Dony Novaliendry

Universitas Negeri Padang

Nazifa Dwi Putri

Universitas Negeri Padang
Keywords:
Marketplace, Promotion, Framework CodeIgniter, Booking.
Abstract
Marketplace is an activity forum that carries out buying and selling transactions in electronic form and the transaction process is very easy and fast. However, there is still little use of technology in marketing and searching for photo studio services, perhaps only limited to using social media such as Instagram, WhatsApp and Facebook. For now it is not easy to find photo studio services with good quality and affordable prices, because there are still few systems that provide detailed information about many photo studios. In addition, from the perspective of service actors, it is still difficult to market their services because they are obstructed by the information media. This marketplace design aims to find out how to promote, order and pay at the photo studio marketplace in Padang City. The design of this marketplace is built on a web basis using the CodeIgniter framework. This application was developed using the Unified Modeling Language (UML) model / method. As a result, it can provide fast service for customers because ordering and payments can be made online.
References
Rosdiana, Deny Kuriniadi, dan Asrul Huda. 2019. "Rekayasa Sistem Informasi Promosi Dan Pengelolaan Jasa Studio Foto Berbasis Web". e-ISSN 2302-3259.
Yustiani Rini, dan Rio Yunanto. 2017. "Peran Marketplace Sebagai Alternatif Bisnis Di Era Teknologi Informasi". ISSN 2089-9033.
Rusmawan Uus. 2019. "Teknik Penulisan Tugas Akhir dan Skripsi Pemrograman". Jakarta : PT Elex Media Komputindo.
Destiningrum Mara, dan Qadhli Jafar Adrian. 2017. "Sistem Informasi Penjadwalan Dokter Berbasis Web Dengan Menggunakan Framewrok Codeigniter (Studi Kasus: Rumah Sakit Yukum Medical Center)". ISSN 1693-0010.
Piri Henry G. 2013. "Kualitas Pelayanan Jasa Pengaruhnya Terhadap Loyalitas Pelanggan Pada Steiner Salon Manado". ISSN 2303-1174.
Pratiwi Mutiara, Denny Kurniadi, dan Yeka Hendriyani. 2018. "Sistem Informasi Pengelolaan Produk Dan Jasa Berbasis Web Pada Universitas Negeri Padang". p-ISSN 2086-4981, e-ISSN 2620-6390.
A S Rosa, dan M. Shalahuddin. 2018. "Rekayasa Perangkat Lunak Terstruktur dan Berorientasi Objek". Bandung : Informatika Bandung.
Enterprise Jubilee. 2017. "PHP Komplit". Jakarta : PT. Alex Media Komputindo.
Farell Geovanne, Hadi Kurnia Saputra, dan Igor Novid. 2018. "Rancang Bangun Sistem Informasi Pengarsipan Surat Menyurat (Studi Kasus Fakultas Teknik UNP)". p-ISSN 2086-4981 e-ISSN 2620-6390.
Permata Dwika, Elfi Tasrif, dan Ika Permata Dwika. 2018. "Perancangan Sistem Informasi Pemesanan Wedding Organizer Di Padang". ISSN 2302-3295.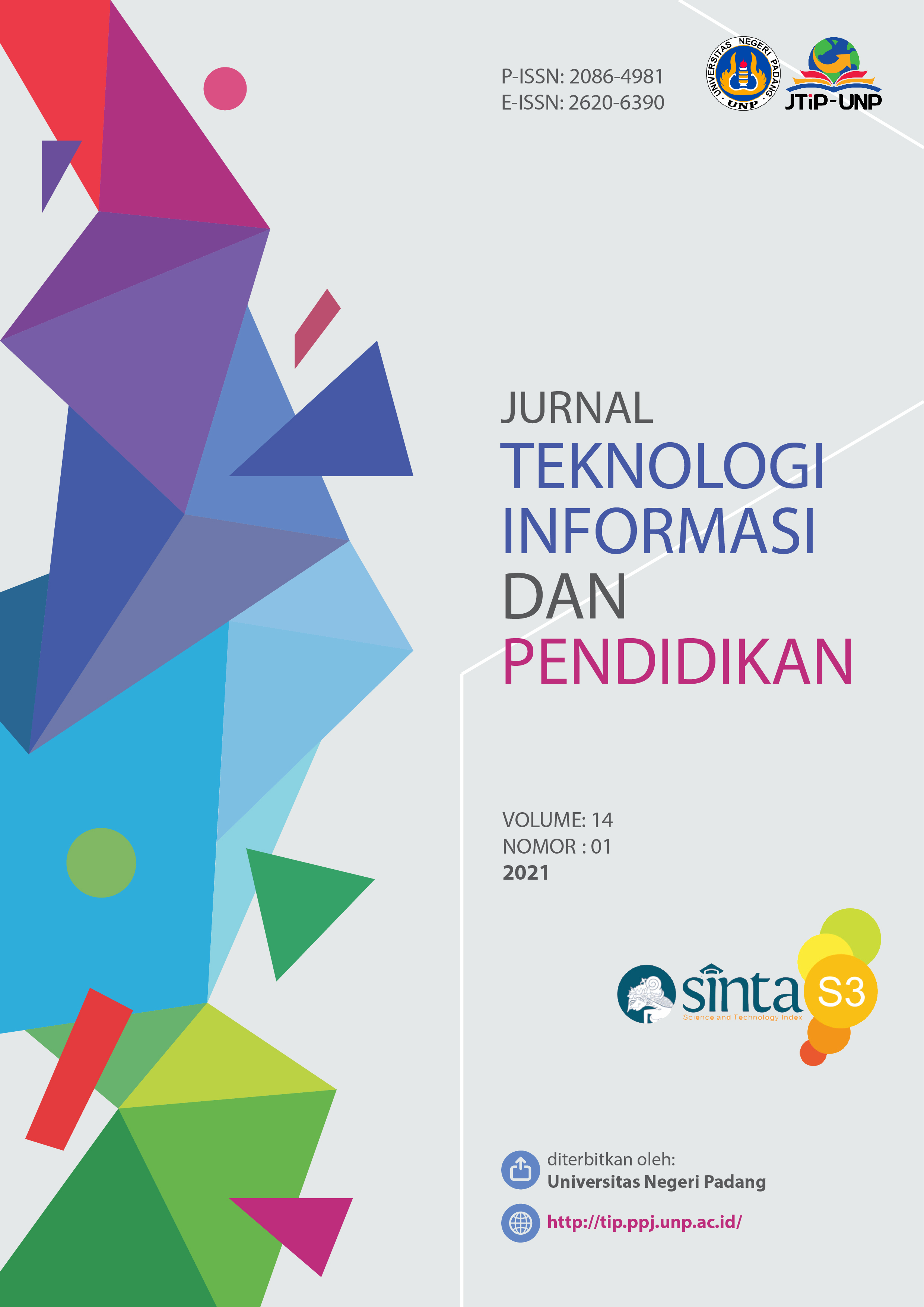 How to Cite
Novaliendry, D., & Putri, N. (2021). DESIGN AND BUILD A PHOTO STUDIO MARKETPLACE IN THE CITY OF PADANG USING THE CODEIGNITER FRAMEWORK. Jurnal Teknologi Informasi Dan Pendidikan, 14(1), 18-26. https://doi.org/10.24036/tip.v14i1.401
Copyright (c) 2021 Jurnal Teknologi Informasi dan Pendidikan
This work is licensed under a Creative Commons Attribution-ShareAlike 4.0 International License.

Abstract viewed = 140 times PDF downloaded = 81 times