INFORMATION SYSTEMS DESIGN FOR EARLY CHILDHOOD EDUCATION SERVICES
Mia Fitriawati

Universitas Komputer Indonesia

R H Lestari

IKIP SILIWANGI
Keywords:
Information System, SDLC method, System Design
Abstract
Parents are working harder due to the increase needs of necessities of life. This causes mothers to work so that they meet these necessities. As a result, mothers leave their children aged 2 (two) to 4 (four) years in the play group. However, the children development is often out of hand because it is not properly recorded. Recording children development manually has several weaknesses, one of them is damaged children development recording book. Based on this problem, this research aims  to develop information systems design for early childhood education services to monitor children development. The method used was SDLC. The result of the research is information system as children development monitor in early childhood education services and tool for teachers in managing the information regarding children growth and development effectively and efficiently.
References
Hancock, K. J., Cunningham, N. K., Lawrence, D., Zarb, D., & Zubrick, S. R., 2015. Playgroup participation and social support outcomes for mothers of young children: A longitudinal cohort study PLoS ONE 10(7) pp. 1–15
Nyland, B., Nyland, C., Gao, Y., Ng, J., & Zeng, X. 2016. The Si Huan Playgroup: an initiative to provide non-formal early childhood education experiences to children of migrants in Beijing Asia Pacific Journal of Education 36(3) pp. 319–331
Fitriawati, M., & Lestari, R. H. 2019, Design of the Information System for Kindergarten Learning Evaluation used Kanban Methodology IOP Conference Series: Materials Science and Engineering 662(2) pp. 022025
Saxena, A., & Hew, K. F. T., 2016. Using ICT in Early Childhood: What Teachers, Principals, and Parents Say 24th International Conference on Computers in Education 24, pp. 511-520
Tezci, E., 2009. Teachers' effect on ICT use in education: the Turkey sample Procedia Social and Behavioral Science 1 pp. 1285-1294
Tondeur, J., Van Braak, J., & Valcke, M. 2007 Curricula and the use of ICT into the education: two worlds apart? British Journal of Educational Technology 38(6) pp. 962-976
Kara, N., & Cagiltay, K. 2017. In-service preschool teachers' thoughts about technology and technology use in early educational settings Contemporary Educational Technology 8(2) pp. 119-14.
Rastogi, V. 2015 Software Development Life Cycle Models- Comparison, Consequences International Journal of Computer Science and Information Technologies 6(1) pp. 168–172
Karambir, S, T. 2015 A Simulation Model for the Spiral Software Development Life Cycle International Journal of Innovative Research in Computer and Communication Engineering 3(5), pp. 3823–3830.
Otero, A, R. 2018 System Development Life Cycle In Information Technology Control and Audit Auerbach Publications pp. 201–236
Scroggins, R. 2014 SDLC and Development Methodologies Global Journal of Computer Science and Technology: C Software & Data Engineering 14(7) pp. 1-6
Dony Novaliendry, Supratman Zakir, Yeka Hendriyani, Titi Sriwahyuni, Resmi Darni 2020. English Game Education Application with Mobile Learning for Childhood. International Journal of Advanced Science and Technology. 29, 06 (Apr. 2020), 1862 - 1868.
D. Novaliendry, Y.Hendriyani, C-H.Yang, & H. Hamimi, 2015, The Optimized K-Means Clustering Algorithms to Analyezed the Budget Revenue Expenditure in Padang. Proceeding of International Conference on Electrical Engineering, Computer Science and Informatics, 61–64.
A. Samala, B. Fajri, F. Ranuharja, and R. Darni, "PEMBELAJARAN BLENDED LEARNING BAGI GENERASI Z DI PERGURUAN TINGGI (STUDI KASUS: PENDIDIKAN TEKNIK INFORMATIKA UNIVERSITAS NEGERI PADANG)", tip, vol. 13, no. 1, pp. 45-53, Mar. 2020.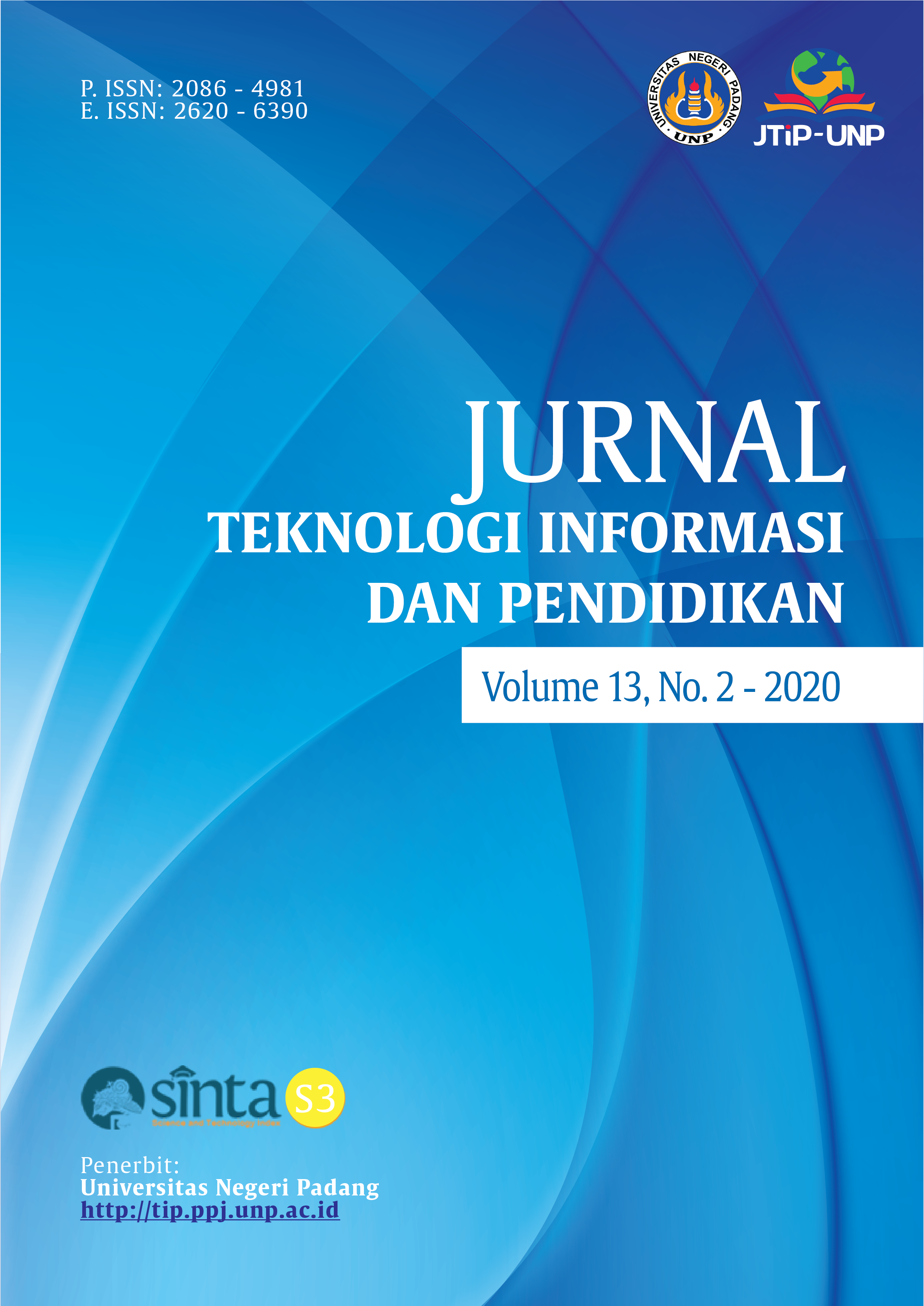 How to Cite
Fitriawati, M., & Lestari, R. (2020). INFORMATION SYSTEMS DESIGN FOR EARLY CHILDHOOD EDUCATION SERVICES. Jurnal Teknologi Informasi Dan Pendidikan, 13(2), 33-36. https://doi.org/10.24036/tip.v13i2.336
Copyright (c) 2020 Jurnal Teknologi Informasi dan Pendidikan
This work is licensed under a Creative Commons Attribution-ShareAlike 4.0 International License.

Abstract viewed = 105 times PDF downloaded = 50 times