DEVELOPMENT SUPPORT LEARNING MEDIA BASED ON ANDROID IN SUBJECT OPERATION SYSTEM
Rafiqa Rizalita

Universitas Negeri Padang

Fahmi Rizal

Universitas Negeri Padang
Keywords:
development, Learning Media, Learning Outcomes
Abstract
This media designed to increase motivation and creativity of students so that students can understand the overall material provided in the subject operation system. This research used the development metode was 4D (Four D), while the 4D development procedure those were: define, design, develop, and Disseminate. Data type was   primary data where the data provided  by the media experts, lecturers and students. Data analysis technique used was  descriptive data analysis technique those were describe the validity, practicality and effectiveness of using support learning media.
Results obtained from this development research as follows; (1) The validity of support learning media expressed very valid on the media design with a value of validity was  0.828, while the materi of media was valid for a value was 0.703, (2) the practicalities of support learning media based the response of teachers after going  through  practical  trials  with  a  total  value  was  84.66%,  while  the practicalities of support learning media based on student response after going through the otherwise very practical trials with a total value of 87.96%.
References
Widyastuti Akhmadan, "Pengembangan Bahan Ajar Materi Garis dan Sudut Menggunakan Macromedia Flash dan Moodle Kelas VII Sekolah Menengah Pertama", Jurnal Gantang, Vol.2, Issue 1, pp.27-40, 2017.
Munir Tanrere, Sumiati Side, "Pengembangan Media Chemo-Edutainmentmelalui Software Macromedia Flash MX pada Pembelajaran IPA Kimia SMP", Jurnal Pendidikan dan Kebudayaan, Vol. 18, Issue 2, pp.156-162, 2012.
Ken Nee Chee, Noraffandy Yahaya, Nor Hasniza Ibrahim, Mohamed Noor Hasan, "Review of Mobile Learning Trends 2010-2015: A Meta-Analysis", Educational Technology & Society, 20, pp. 113-126, 2017.
Monika Sharma, Ankit Thakur, "Review Paper on Android Operating System", International Journal of Emerging Trends in Science and Technology, Vol.2, Issue 5, pp. 2486-2490, 2015.
Adrienne Porter Felt, Erika Chin, Steve Hanna, et al, "Android permissions demystified", CCS '11: Proceedings of the 18th ACM conference on Computer and communications security, pp. 627-638, October 2011.
Kim Hyo Jung, Lee Jin Myong, Rha Jong Youn, "Understanding the role of user resistance on mobile learning usage among university students", Computer and Education, 113, pp. 108-118, 2017.
Dian Kurniawan, Sinta Verawati Dewi, "Pengembangan Perangkat Pembelajaran dengan Media Screencast O Matic Media Pada Mata KUliah Kalkulus 2 Menggunakan Model 4-D Thiagarajan", Jurnal Siliwangi, 3,pp. 214-219, 2017.
Fajar Irsyadul Afkar, Rudi Hartono, "Pengembangan Lembar ajar peserta didik dengan Model Pengembangan 4-D pada Materi Mitigasi Bencana dan Adaptasi Bencana Kelas X SMA", JURNAL PENDIDIKAN GEOGRAFI: Kajian, Teori, dan Praktek dalam Bidang Pendidikan dan Ilmu Geografi, 20, pp. 135-147, 2017.
Sugiyono, Metode Penelitian Kuantitatif Kualitatif dan R&D, Alfabeta, Bandung, 2013.
R Burke Jhonson, "Examining the validity structure of qualitative research", Education, 118, pp. 282, 1997.
A. Samala, B. Fajri, and F. Ranuharja, "DESAIN DAN IMPLEMENTASI MEDIA PEMBELAJARAN BERBASIS MOBILE LEARNING MENGGUNAKAN MOODLE MOBILE APP", tip, vol. 12, no. 2, pp. 13-20, Dec. 2019.
Azhar Arsyad, Media Pembelajaran, Raja Grafindo Persada, Jakarta, 2011.
Mohamad Z, NM Ishak, "Analisis Cohen Kappa : Dalam Penyelidikan Bahasa : Satu Pengalaman", Seminar Penyelidikan Pendidikan Guru Peringkat Kebangsaan, pp. 1-7, Januari 2003.
Riduwan, Belajar Mudah Penulisan Untuk Guru-Karyawan dan Peneliti Pemula, Alfabeta, Bandung, 2010.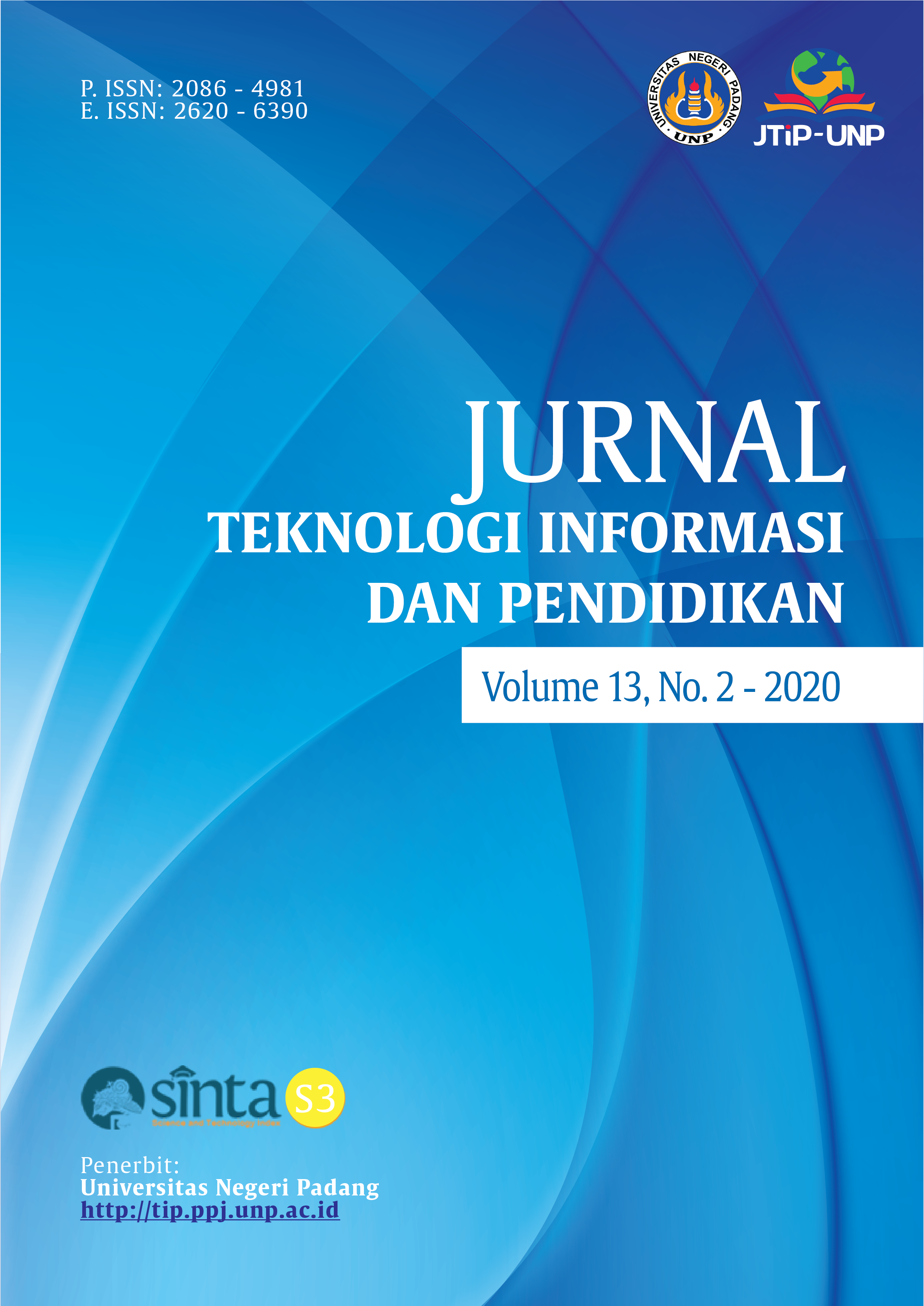 How to Cite
Rizalita, R., & Rizal, F. (2020). DEVELOPMENT SUPPORT LEARNING MEDIA BASED ON ANDROID IN SUBJECT OPERATION SYSTEM. Jurnal Teknologi Informasi Dan Pendidikan, 13(2), 25-32. https://doi.org/10.24036/tip.v13i2.337
Copyright (c) 2020 Jurnal Teknologi Informasi dan Pendidikan
This work is licensed under a Creative Commons Attribution-ShareAlike 4.0 International License.

Abstract viewed = 155 times PDF downloaded = 91 times