DEVELOPMENT OF ANDROID-BASED CAREER GUIDANCE MEDIA AT SMK NEGERI 1 KOTO BESAR
Laila Hidayati

Universitas Negeri Padang

Fahmi Rizal

Universitas Negeri Padang

Syahril Syahril

Universitas Negeri Padang
Keywords:
Career guidance, career guidance services, android-based career guidance
Abstract
This research is motivated by the need for career guidance services that cannot be implemented optimally because the media for the implementation of Career Guidance is not yet available. In addition, students are also less interested in carrying out career guidance so that the provision of motivation and career information to students has not been carried out properly. Career Guidance Services are needed by students who are currently unstable teenagers in determining their own careers. So that BK teachers need interesting and flexible media in their use to be used during the Career Guidance service process. The purpose of this research is to develop android-based media to assist the implementation of Career Guidance to make it more practical, effective and interesting, thereby increasing students' understanding and strengthening in choosing careers independently. This study uses the Research and Development (R&D) 4D model. The research was carried out at SMKN 1 Koto Besar with the research subject of class XI Kimia Industri, totaling 40 students. Data collection instruments consist of observations, interviews and questionnaires. Data analysis technique for validity test uses Aikens's V formula, practicality test uses descriptive statistics, and effectiveness test uses level categorization. The results showed that the android-based career guidance media was practical and effective. This can be seen from the practicality test given to teachers and students with the results "Very Practical", 90.67% of student responses and 86.08% of teacher responses. Furthermore, the effectiveness test given to students showed an increase in students' understanding and stability in choosing a career independently after using career guidance media.
References
A.W. Khurniawan, Grand Design Pengembangan Teaching Factory and Technopark di SMK, Direktorat Jendral Pendidikan Dasar dan Menengah, Jakarta, 2016.
Slamet, Materi Layanan Klasikal Bimbingan dan Konseling untuk SMK-MAK kelas 12, Paramitra Publishing, Jakarta, 2016.
Google, "Kemedikbud Terus Upayakan Pembangunan SDM Menuju Indonesia Maju, 2020. [Online]. Available: https://dikti.kemdikbud.go.id/kabar-dikti/kabar/kemendikbud-terus-upayakan-pembangunan-sdm-menuju-indonesia-maju/. [Accessed: 1-March-2020].
Munir, Multimedia, Konsep dan Aplikasi dalam Pendidikan, Alfabetha, Bandung, 2012.
Nusa Putra, Research & Development Penelitian dan Pengembangan, PT Raja Grafindo Persada, Jakarta, 2015.
Sugiyono, Metode penelitian dan Pengembangan "Research and Development", ALFABETA, Bandung, 2016.
Ridwan, Skala Pengukuran Variabel-variabel Penelitian, Alfabeta, Bandung, 2010.
Saifuddin Azwar, Metode Penelitian, Pustaka Belajar, Yogyakarta, 2014.
A. D. Samala, B. R. Fajri, and F. Ranuharja, "DESAIN DAN IMPLEMENTASI MEDIA PEMBELAJARAN BERBASIS MOBILE LEARNING MENGGUNAKAN MOODLE MOBILE APP," J. Teknol. Inf. dan Pendidik., vol. 12, no. 2, pp. 13–19, Dec. 2019, doi: 10.24036/tip.v12i2.221.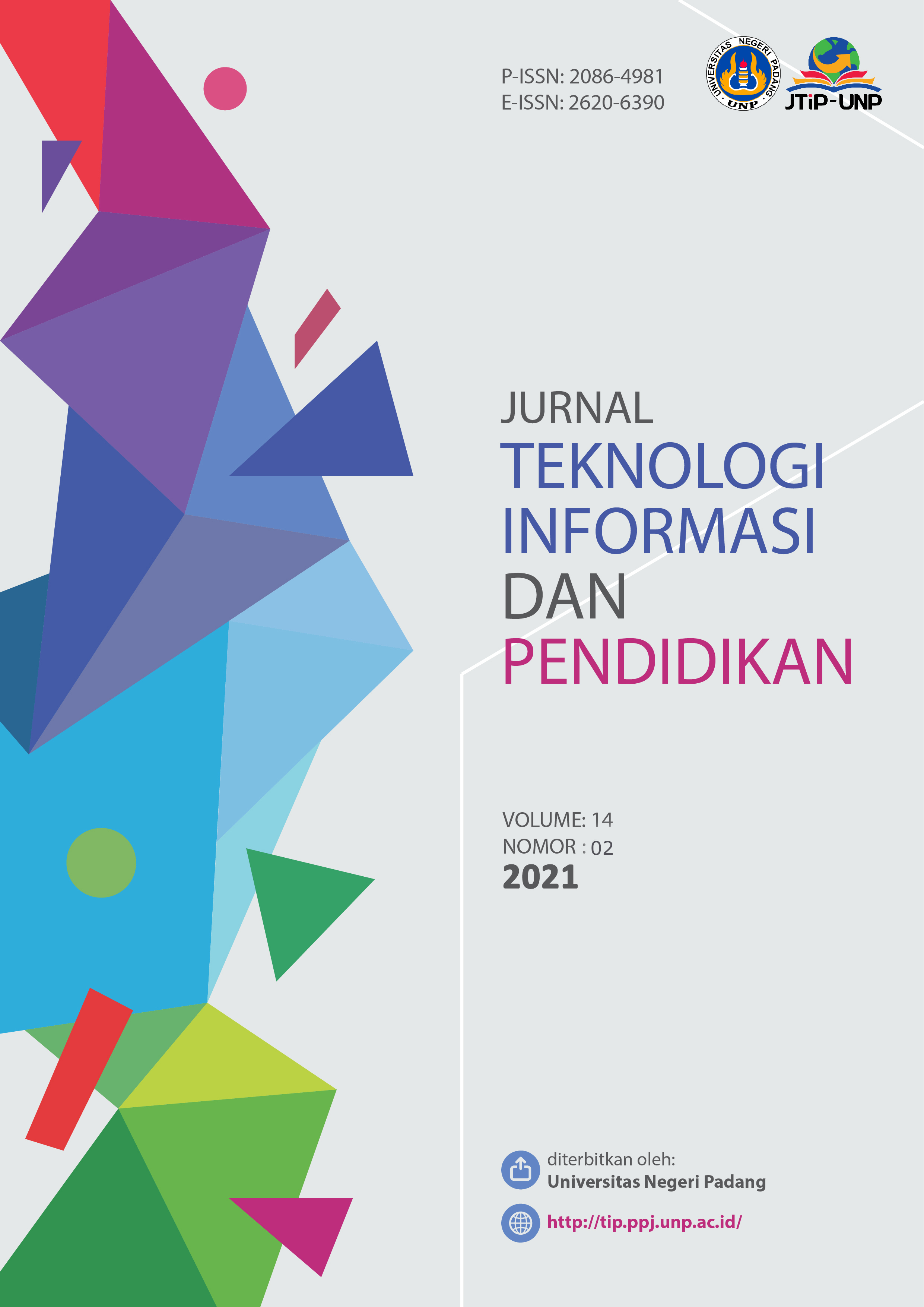 How to Cite
Hidayati, L., Rizal, F., & Syahril, S. (2021). DEVELOPMENT OF ANDROID-BASED CAREER GUIDANCE MEDIA AT SMK NEGERI 1 KOTO BESAR. Jurnal Teknologi Informasi Dan Pendidikan, 14(2), 12-18. https://doi.org/10.24036/tip.v14i2.458
Copyright (c) 2021 Jurnal Teknologi Informasi dan Pendidikan
This work is licensed under a Creative Commons Attribution-ShareAlike 4.0 International License.

Abstract viewed = 7 times PDF downloaded = 6 times