Validity Test of Motion Graphics Media as A Wide Area Network Learning Media
Panyahuti Panyahuti

Department of Informatics Engineering, Institut Teknologi Pagaralam
Keywords:
motion graphics ▪ video ▪ Wide Area Network
Abstract
The world of education currently uses many benefits in the form of technology such as computer equipment to assist the process of delivering material. One of them is motion graphics video. The aims of this study are to: (1) Determine the validity of motion graphics video as a learning medium for Wide Area Network materials. (2) Knowing the practicality of video motion graphics as a learning medium in Wide Area Network materials. This type of research is Research and Development (R&D) with a Four D (4D) approach model consisting of Define, Design, Develop, and Disseminate. From the results of the study it can be said that (1) video motion graphics on Wide Area Network materials. that have been developed meet the criteria. The data from the video motion graphics validity test results show the aiken'V value in the expert test results obtained an average media validity in the display aspect of 0.807 in the valid category, the average media validity value in the format aspect media of 0.83 in the valid category, the average validity of the material on the aspect of media presentation is 0.817 in the valid category. The results of the development of motion graphic videos as a whole have been suitable for use or valid as learning media.
References
S. Adam, "Pemanfaatan media pembelajaran berbasis teknologi informasi bagi siswa kelas X SMA Ananda Batam," Comput. Based Inf. Syst. J., vol. 3, no. 2, 2015.
I. D. Putu Nyeneng, A. Rahman Riyanda, and K. Herlina, "Feasibility Test for Android-Based Mobile Learning on High School Content," J. Pembelajaran Fis., 2019.
S. Adam et al., "Penggunaan media audio-visual pada mata pelajaran ilmu pengetahuan alam di Sekolah Menengah Pertama Negeri 1 Pacitan," J. Teknol. Inf. dan Pendidik., vol. 2, no. 3, pp. 1940–1945, 2021.
F. Ariyani, G. E. Putrawan, A. R. Riyanda, A. R. Idris, L. Misliani, and R. Perdana, "Technology and minority language: an Android-based dictionary development for the Lampung language maintenance in Indonesia," Tapuya Lat. Am. Sci. Technol. Soc., vol. 5, no. 1, p. 2015088, 2022.
S. Suryadi, "Peranan perkembangan teknologi informasi dan komunikasi dalam kegiatan pembelajaran dan perkembangan dunia pendidikan," Informatika, vol. 3, no. 3, pp. 9–19, 2015.
A. R. Riyanda et al., "Augmented Reality Technology for 3D Photoelectric Simulation," J. Teknol. Inf. dan Pendidik., vol. 14, no. 3, pp. 35–40, 2021.
M. A. Sunami and A. Aslam, "Pengaruh penggunaan media pembelajaran video animasi berbasis zoom meeting terhadap minat dan hasil belajar IPA siswa sekolah dasar," J. Basicedu, vol. 5, no. 4, pp. 1940–1945, 2021.
A. Afrina, N. H. Adi, and others, "A Design of Practice Activities Cloudstorage, Promotion and Protocol," J. Teknol. Inf. dan Pendidik., vol. 14, no. 2, pp. 151–157, 2021.
S. Chakraborty and M. G. Simoes, "Experimental evaluation of active filtering in a single-phase high-frequency AC microgrid," IEEE Trans. energy Convers., vol. 24, no. 3, pp. 673–682, 2009.
S. A. Hosseini, H. A. Abyaneh, S. H. H. Sadeghi, F. Razavi, and A. Nasiri, "An overview of microgrid protection methods and the factors involved," Renew. Sustain. Energy Rev., vol. 64, pp. 174–186, 2016.
A. T. Devega, N. H. Adi, M. A. Mawaddah, H. A. Shiddiqi, and others, "Design and Analysis of the Motion Graphic Publication Program Implementation as a Promotional Media for Batam TV," in 8th International Conference on Technical and Vocational Education and Training (ICTVET 2021), 2021, pp. 85–91.
S. Ariyati and T. Misriati, "Perancangan animasi interaktif pembelajaran asmaul husna," J. Tek. Komput., vol. 2, no. 1, pp. 116–121, 2016.
M. Algiffari, "Perancangan motion graphic (bumper in) dan video dokumenter permainan tradisional Jawa Barat (analisis deskriptif permainan tradisional pada Sanggar Seni Tikukur Majalengka)," J. Sketsa, vol. 2, no. 1, 2015.
F. F. Ranuharja, I. P. Dewi, others, G. Ambiyar, A. D. S. Fadhilah, and Y. Indarta, "Feasibility Test Assessment of LENTERA as Learning Source Media," Res. Tech. Vocat. Educ. Train., vol. 1, no. 1, pp. 41–49, 2022.
S. Chen, N. Tai, C. Fan, J. Liu, and S. Hong, "Sequence-component-based current differential protection for transmission lines connected with IIGs," IET Gener. Transm. & Distrib., vol. 12, no. 12, pp. 3086–3096, 2018.
G. Ganefri, F. Prasetya, F. Ranuharja, B. R. Fajri, and A. D. Samala, "DEVELOPMENT OF DIGITAL MULTIMEDIA LEARNING CONTENT MINI SERVER LENTERA," J. Teknol. Inf. dan Pendidik., 2021.
Sugiyono, Metodologi Penelitian Kuantitatif, Kualitatif, dan R&D. 2016.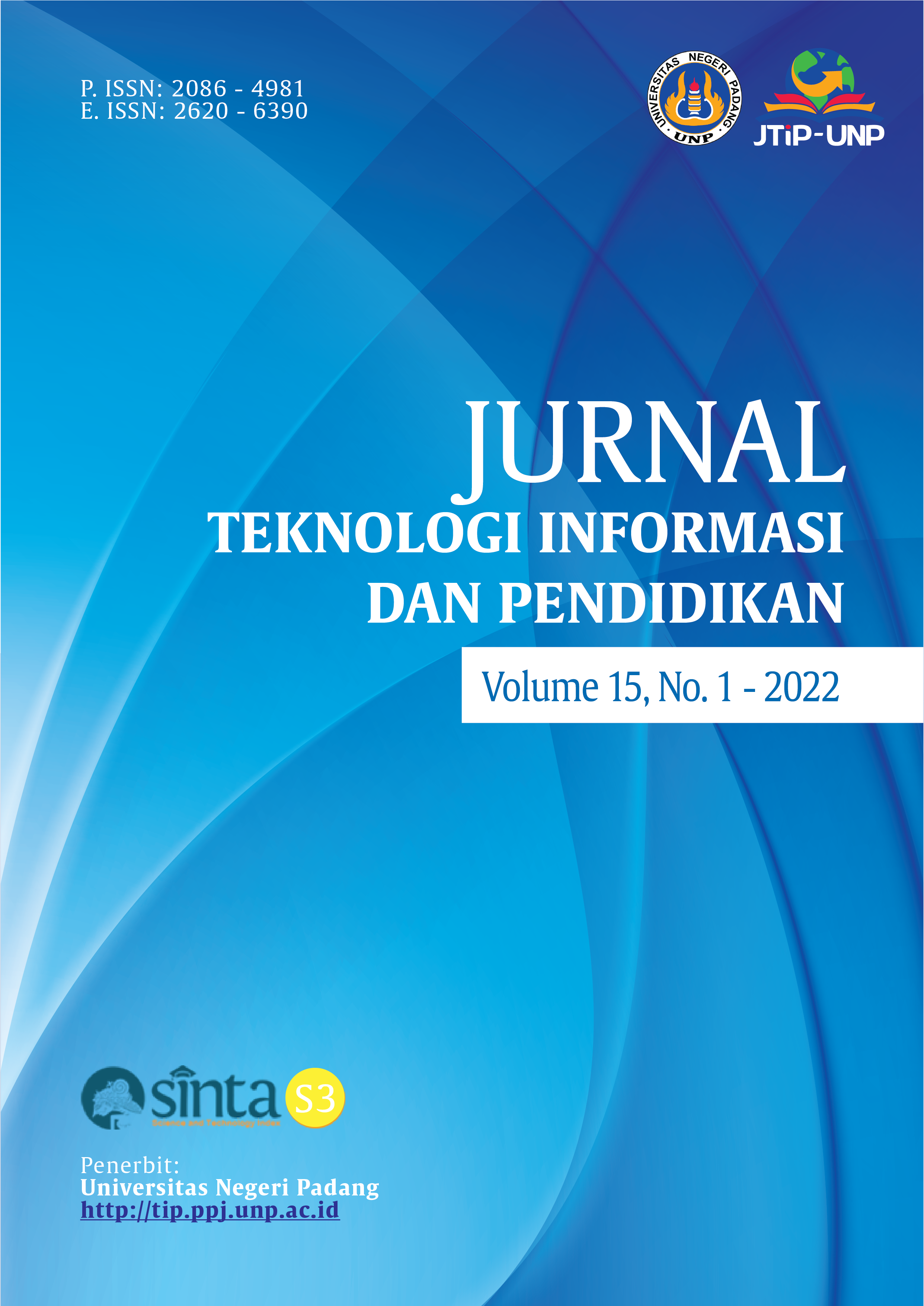 How to Cite
[1]
P. Panyahuti, "Validity Test of Motion Graphics Media as A Wide Area Network Learning Media", JTIP, vol. 15, no. 1, pp. 21-27, Apr. 2022.
Copyright (c) 2022 Jurnal Teknologi Informasi dan Pendidikan
This work is licensed under a Creative Commons Attribution-ShareAlike 4.0 International License.

Abstract viewed = 260 times PDF downloaded = 234 times