DIGITAL MARKETING SEBAGAI METODA ALTERNATIF WIRAUSAHA BAGI MAHASISWA DI UNIVERSITAS NEGERI PADANG
Muhammad Adri

Universitas Negeri Padang

Hanesman Hanesman

Universitas Negeri Padang

Titi Sriwahyuni

Universitas Negeri Padang

Almasri Almasri

Universitas Negeri Padang
Keywords:
4.0 Industrial Revolution, Internet Technology, Social Media, Social Networking, Digital Marketing
Abstract
Digital technology and the internet have opened opportunities for people to develop social interaction through this technology, with the birth of web technology, media and social networks, which led to the industrial revolution 4.0. This technology presents a new trend in building a business called Digital Marketing (DM). DM provides new opportunities for anyone to do entrepreneurship without being limited by time, place and region. More than a decade of entrepreneurship has become the focus of attention of the government in Education, as one of the ways to reduce national unemployment. Universitas Negeri Padang (UNP) answers the entrepreneurship education policy by making Entrepreneurship as a compulsory subject, promoting entrepreneurial student programs and integrated service units for career guidance and entrepreneurship. This paper examines more deeply how DM can be used as an alternative method of entrepreneurship for UNP students, which has direct touching student life as a millennial generation. The experimental method is used to see of improvement the knowledge and skills of students in DM through DM Training and Development of DM eLearning Resources (DMLR). To measure the success of the program, instruments were developed before and after training, as well as a questionnaire to assess the results of the DMLR development. The results of this study showed an increase in student knowledge and skills in DM and a good assessment of the developed DMLR.
References
Rojko, Andreja, "Industry 4.0 : Concept and Background". International Journal of Interactive Mobile Technology, vol. 11, no.5, pp. 77–90, 2017.
Bogovitz, Aleksei V, et.al, "Comparative Analysis of Formation of Industry 4.0 in Developed and Developing Countries", E. G. Popkova et al. (eds.), Industry 4.0: Industrial Revolution of the 21st Century, Studies in Systems, Decision and Control 169, pp. 155 – 164, Springer International Publishing AG, part of Springer Nature 2019, https://doi.org/10.1007/978-3-319-94310-7_15
Fox, Armando, "Using MOOC to Reinvigorate Software Engineering Education", on ICSE Companion, ACM, 31th May – 7th June, 2014, Hyderabad, India.
Hawkins, B.D. (2015). Here comes generation Z: What makes them tick? Neatoday.org. Website : http://neatoday.org/2015/07/13/here-comes-generation-z-what-makes-them-thick. diakses tanggal 5 Juni 2019
Montrieux H, Vanderlinde R, Schellens T, De Marez L, "Teaching and Learning with Mobile Technology: A Qualitative Explorative Study about the Introduction of Tablet Devices in Secondary Education". PLoS ONE 10 (12) :
e0144008. https://doi.org/10.1371/journal.pone.0144008
Muhammad Ruslan, Pendidikan di Era RI 4.0 dan Tantangannya, 2019. Website: https://www.kompasiana.com/2220/5aebb94eab12ae687e7f5153/pendidikan-di-era-ri-4-0-dan-tantangannya?page=all diakses tanggal 5 Juni 2019.
Soekartono, evolusi 4.0 dan Dampaknya terhadap Pendidikan di Indonesia, 2018. http://fkip.ums.ac.id/wp-content/uploads/sites/ 43/2018/12/Revolusi-Industri-4.0-dan-Dampaknya-terhadap-Pendidikan-di-Indonesia-Dr.-Sukartono.doc, diakses tanggal 5 Juni 2019
Yulizar Kasih. (2013). "Mewujudkan Pendidikan Kewirausahaan Di Perguruan Tinggi Melalui Proses Pembelajaran yang Berkelanjutan", Forum Bisnis dan Kewirausahaan, Jurnal Ilmiah STIE MDP, Vol. 2 No. 2 Maret 2013
Heri Kuswara. "Strategi Perguruan Tinggi Mewujudkan Entrepreneurial Campus", diakses pada alamat : http://www.dikti.go.id, diakses pada 10 April 2019.
Elfindri, Desri Ayunda, dan Wiko Saputra, "Minang Entrepreneurship", Buduose Media, Jakarta, 2010
Rauch, E., Linder, C., & Dallasega, P. "Anthropocentric perspective of production before and within Industry 4.0". Computers and Industrial Engineering, (xxxx), 1–15. https://doi.org/10.1016/j.cie.2019.01.018, 2010
Yeung, S., "Examining the need of ethics course in China hospitality industry". Procedia - Social and Behavioral Sciences, 144, 212–217, 2014. https://doi.org/10.1016/j.sbspro.2014.07.289
UNP Padang. Rencana Strategis Universitas Negeri Padang 2015-2019, UNP, Padang, 2016
UNP Padang, Laporan Kinerja Universitas Negeri Padang Tahun 2018, UNP, Padang, 2019
UPT MKU UNP. Rencana Pembelajaran Semester (RPS) Mata Kuliah Umum Kewirausahaan Universitas Negeri Padang, UPT. MKU UNP Padang, 2019
Harjanto Probowo, Blunder Paradigma menghadapi Era Industri 4.0, 2018 Website : https://onlinelearning.binus.ac.id/2018/08/02/blunder-paradigma-menghadapi-era-industri-4-0/ diakses tanggal 5 Juni 2019
Molenda, Michael. In Search of Eclusive ADDIE Model, Published on http://www.ispi.org, May/June 2003.
Branch, Robert M, Instructional Design : The ADDIE Approach, Springer, New York, USA, 2009.
van Dijk, Jan A. G. M. and van Deuresen, Alexander, Digital Skill, unlocking the Information Society, New Palgrave MacMillan, York, USA, 2014
Udemy, The Complete Digital Marketing Course, Website : https://www.udemy.com/course/learn-digital-marketing-course/ diakses pada 5 Agustus 2019
Udacity, Sylabus Digital Marketing Non Degree Program, Website : http://www.udacity.com/digital-marketing diaksea pada 24 Agustus 2019
Ondigitalmarketing.Sylabus for Digital Marketing Analytics, Website : https://ondigitalmarketing.com/learn/course-syllabus-for-digital-marketing-analytics/ diakses pada 17 Oktober 2019.
Google Trends, survey dari penggunaan LMS Moodle, Schoology, Dokeos, dan Atutor pada Google Trends 12 bulan terakhir, Website : Google. 2019. (https://trends.google.com) diakses pada tanggal 03 Agustus 2019.
Moodle. 2019. Course Management with Moodle Guide, website : https://moodle.org, diakses tanggal 03 Agustus 2019.
Rice, William, Moodle ELearning Course Development, 3rd Edition: A complete guide to create and develop engaging elearning courses with Moodle, Packt Publishing , Birmingham, UK, 2015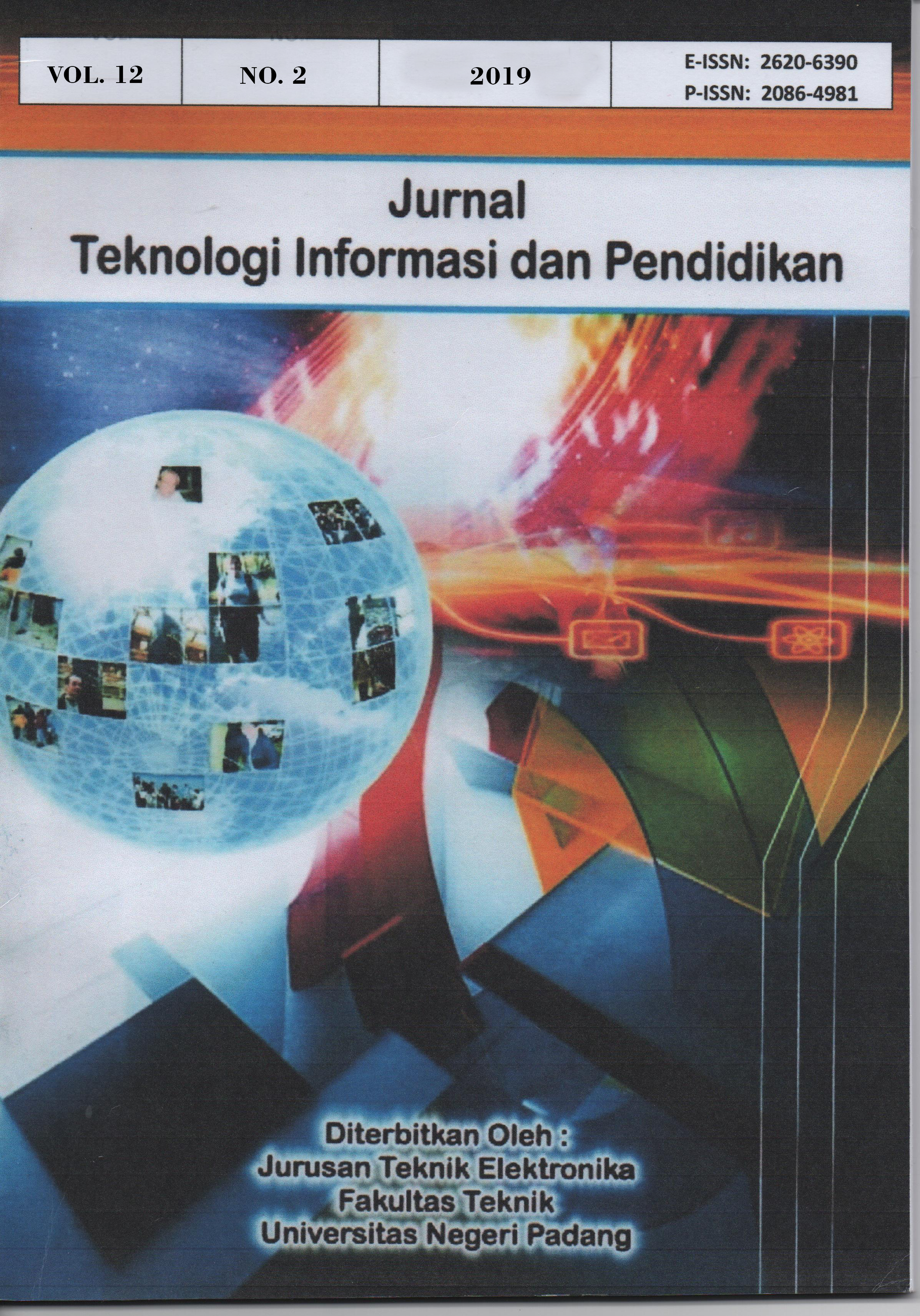 How to Cite
[1]
M. Adri, H. Hanesman, T. Sriwahyuni, and A. Almasri, "DIGITAL MARKETING SEBAGAI METODA ALTERNATIF WIRAUSAHA BAGI MAHASISWA DI UNIVERSITAS NEGERI PADANG", JTIP, vol. 12, no. 2, pp. 68-76, Dec. 2019.
Copyright (c) 2019 Muhammad Adri
This work is licensed under a Creative Commons Attribution-ShareAlike 4.0 International License.

Abstract viewed = 1714 times PDF downloaded = 836 times