RANCANG BANGUN APLIKASI MULTIMEDIA INTERAKTIF MOBILE LEARNING MATA KULIAH METODE PENELITIAN FPP UNIVERSITAS NEGERI PADANG
Rahmiati Rahmiati

Universitas Negeri Padang

Yuliana Yuliana

Universitas Negeri Padang

Muhammad Adri

Universitas Negeri Padang

Ika Parma Dewi

Universitas Negeri Padang
Keywords:
Android, Interactive, Research Methods, Learning, Mobile, Multimedia, Smartphone
Abstract
Learning 4.0 refers to 9 IT-based trends and learning. Changes in education gave birth to innovations in the field of education with the aim of improving the quality of education. Information technology as an innovation becomes an educational need. Technology support in the field of education, educators are greatly helped in efforts to improve the quality of learning. The characteristics of mobile devices that have a high degree of flexibility and portability enable students to access material, direction and information related to learning where and at any time. One of them is the use of mobile learning applications. Interactive multimedia applications can be developed into mobile learning applications. The purpose of this study is to produce an application as a learning tool for students of research methods on Android-based smartphones that have material content that is tailored to the SOP of the State University of Padang. This application was developed through the Prototyping development approach with an Android-based Java programming language using the Integrated Development Environment (IDE) of Android Studio. The making of this research resulted in the application of research methods courses as a means of learning for students who had syllabus features, lesson plans, material from units I to X and videos adapted to the syllabus. With the results of the application of learning this research method, it is expected that this application can contribute and provide convenience in the learning process of FPP UNP student research methods.
References
Arsyad, Azhar. 2012. Media Pembelajaran. Jakarta : Raja Grafindo Persada
Azhar Arsyad. 2013. Media Pembelajaran. Jakarta: PT Raja Grafindo Persada.
Daryanto. 2013. Media Pembelajaran. Bandung: Satu Nusa
Rusman. 2012. Belajar dan Pembelajaran Berbasis Komputer Menggembangkan Professionalisme Guru Abab 21. Bandung: Alfabeta.
Tamimuddin, Muh. 2007. Mobile Leraning ,(online), http://m-edukasi.net/artikel-mobile.php/2010/html.com Diakses 10 November 2015
Griffiths, Stephen. 2015. Mobile App UX Principles. Google
Munir. 2012. Multimedia Konsep & Aplikasi dalam Pendidikan. Bandung: Alfabeta
Lee, Wiliam W & Diana L Owens. 2004. Multimedia-Based Instructional Design. San Francisco: Pfeiffer.
Wulyaningsih. 2017. "Model Pembelajaran Tugas Terstruktur Untuk Meningkatkan Motivasi dan Prestasi Belajar". Jurnal Riset dan Konseptual vol. 2, no.1. Hlm. 51 ―57.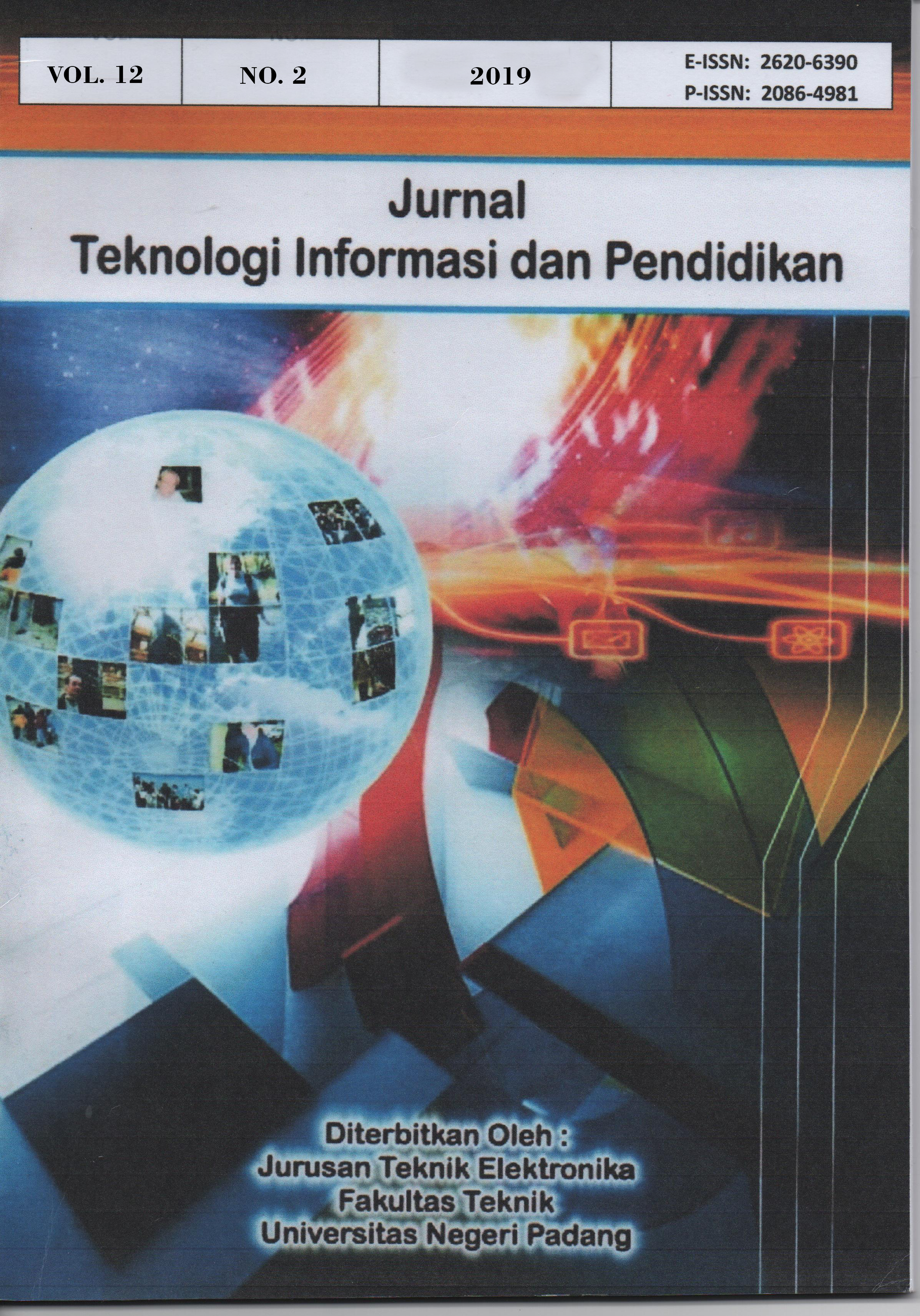 How to Cite
[1]
R. Rahmiati, Y. Yuliana, M. Adri, and I. Dewi, "RANCANG BANGUN APLIKASI MULTIMEDIA INTERAKTIF MOBILE LEARNING MATA KULIAH METODE PENELITIAN FPP UNIVERSITAS NEGERI PADANG", JTIP, vol. 12, no. 2, pp. 44-52, Dec. 2019.
Copyright (c) 2019 Rahmiati
This work is licensed under a Creative Commons Attribution-ShareAlike 4.0 International License.

Abstract viewed = 554 times PDF downloaded = 332 times