MEDIA INTERAKTIF PENGENALAN BAHASA ISYARAT BISINDO
Abstract
Sign language is the communication that used by the deaf people. Sign language is also a form of accessibility for deaf people to be able to socialize with people around them. Deaf socialization with normal people in the society is not optimal because most of the people does not yet know sign language. Based on these problems, this study aims to develop an interactive media introduction to BISINDO sign language based on augmented reality for the community in supporting a society that is more inclusive of the deaf. This study uses a Research and Development (R&D) approach. The sample in this study was deaf people who participated in the Gerkatin Padang community, and people from various professions in the city of Padang. The data collection technique was carried out using a questionnaire and a focused group discussion technique. Based on the results of the collection of 100 respondents' perceptions data from the public towards sign language obtained: 1) the level of getting to know the community towards sign language is still low at 57%, 2) the level of skills using sign language is still low at 83%, 3) the importance level of sign language according the community is 81%, 4) The level of community needs to learn Sign Language is obtained by 88%, and 5) The level of selection of the right media for learning Sign Language, 74% of respondents choose media in the form of a smartphone application. The validity of the interactive media prototype introduction BISINDO sign language developed in terms of substance that is the suitability of sign language in the application obtained a validator rating of 89.33%, then in terms of the media obtained a validator value of 89.67%. It can be concluded that the interactive media prototype in the form of a smartphone application that was developed very well in terms of substance and media so that it is very feasible or valid to be used in the introduction of BISINDO sign language.
References
"PENGESAHAN CONVENTION ON THE RIGHTS OF PERSONS WITH DISABILITIES (KONVENSI MENGENAI HAK-HAK PENYANDANG DISABILITAS)."
Z. Nikolawatin, P. Setyosari, and S. Ulfa, "PENGEMBANGAN MEDIA TUTORIAL BAHASA ISYARAT UNTUK SISWA TUNARUNGU SLB BC KEPANJEN," JINOTEP (Jurnal Inov. dan Teknol. Pembelajaran) Kaji. dan Ris. dalam Teknol. Pembelajaran, vol. 6, no. 1, pp. 15–22, Jul. 2019.
R. A. Mursita, "RESPON TUNARUNGU TERHADAP PENGGUNAAN SISTEM BAHASA ISYARAT INDONESA (SIBI) DAN BAHASA ISYARAT INDONESIA (BISINDO) DALAM KOMUNIKASI," INKLUSI, vol. 2, no. 2, p. 221, Dec. 2015.
C. Lee and S. A. Pott, "University students' attitudes towards deaf people: educational implications for the future," Deaf. Educ. Int., vol. 20, no. 2, pp. 80–99, Apr. 2018.
J. Barrow, C. Forker, A. Sands, D. O'Hare, and W. Hurst, "Augmented Reality for Enhancing Life Science Education," Vis. 2019-The Fourth Int. Conf. Appl. Syst. Vis. Paradig., 2019.
D. J. Napoli and S. Liapis, Effort reduction in articulation in sign languages and dance, vol. 3, no. 1. Springer Singapore, 2019.
M. Affendi, "Pengantar Psikopedagogik Anak Berkelainan," Mycol. Res., 2006.
U. Bellugi and E. S. Klima, "Sign Language," in International Encyclopedia of the Social & Behavioral Sciences: Second Edition, 2015.
A. A. Gafar and J. Y. Sari, "Sistem Pengenalan Bahasa Isyarat Indonesia dengan Menggunakan Metode Fuzzy K-Nearest Neighbor," J. Ultim., vol. 9, no. 2, pp. 122–128, Apr. 2018.
Fajri, Bayu Ramadhani and G. Kusumastuti, "Perceptions of 'Hearing' People on Sign Language Learning," in Proceedings of the 5th International Conference on Education and Technology (ICET 2019), 2019, vol. 382, no. ICET, pp. 364–367.
A. Breva Yunanda, F. Mandita, and A. Primasetya Armin, "Pengenalan Bahasa Isyarat Indonesia (BISINDO) Untuk Karakter Huruf Dengan Menggunakan Microsoft Kinect," Fountain Informatics J., vol. 3, no. 2, p. 41, Nov. 2018.
B. R. Fajri and Irfansyah, "CONMEDIA 2015 - International Conference on New Media 2015," CONMEDIA 2015 - Int. Conf. New Media 2015, 2016.
A. D. Samala, B. R. Fajri, and F. Ranuharja, "DESAIN DAN IMPLEMENTASI MEDIA PEMBELAJARAN BERBASIS MOBILE LEARNING MENGGUNAKAN MOODLE MOBILE APP," J. Teknol. Inf. dan Pendidik., vol. 12, no. 2, pp. 13–19, Dec. 2019.
F. Wahyutama, F. Samopa, and H. Suryoytisongko, "Penggunaan Teknologi Augmented Reality Berbasis Barcode sebagai Sarana Penyampaian," J. Tek. Pomits, 2013.
P. M. and F. Kishino, "Markerless Augmented Reality Pada Perangkat Android," E-Journal Tek. Inform., 2017.
Y. G. Kim and W. J. Kim, "Implementation of augmented reality system for smartphone advertisements," Int. J. Multimed. Ubiquitous Eng., 2014.
C. O. Karundeng, D. J. Mamahit, and B. A. Sugiarso, "Rancang Bangun Aplikasi Pengenalan Satwa Langka di Indonesia Menggunakan Augmented Reality," J. Tek. Inform., 2018.
P. D. Sugiyono, metode penelitian kuantitatif, kualitatif,dan R&D. 2016.
E. Mulyatiningsih, Metode Penelitian Terapan Bidang Pendidikan. Bandung: Alfabeta., 2013.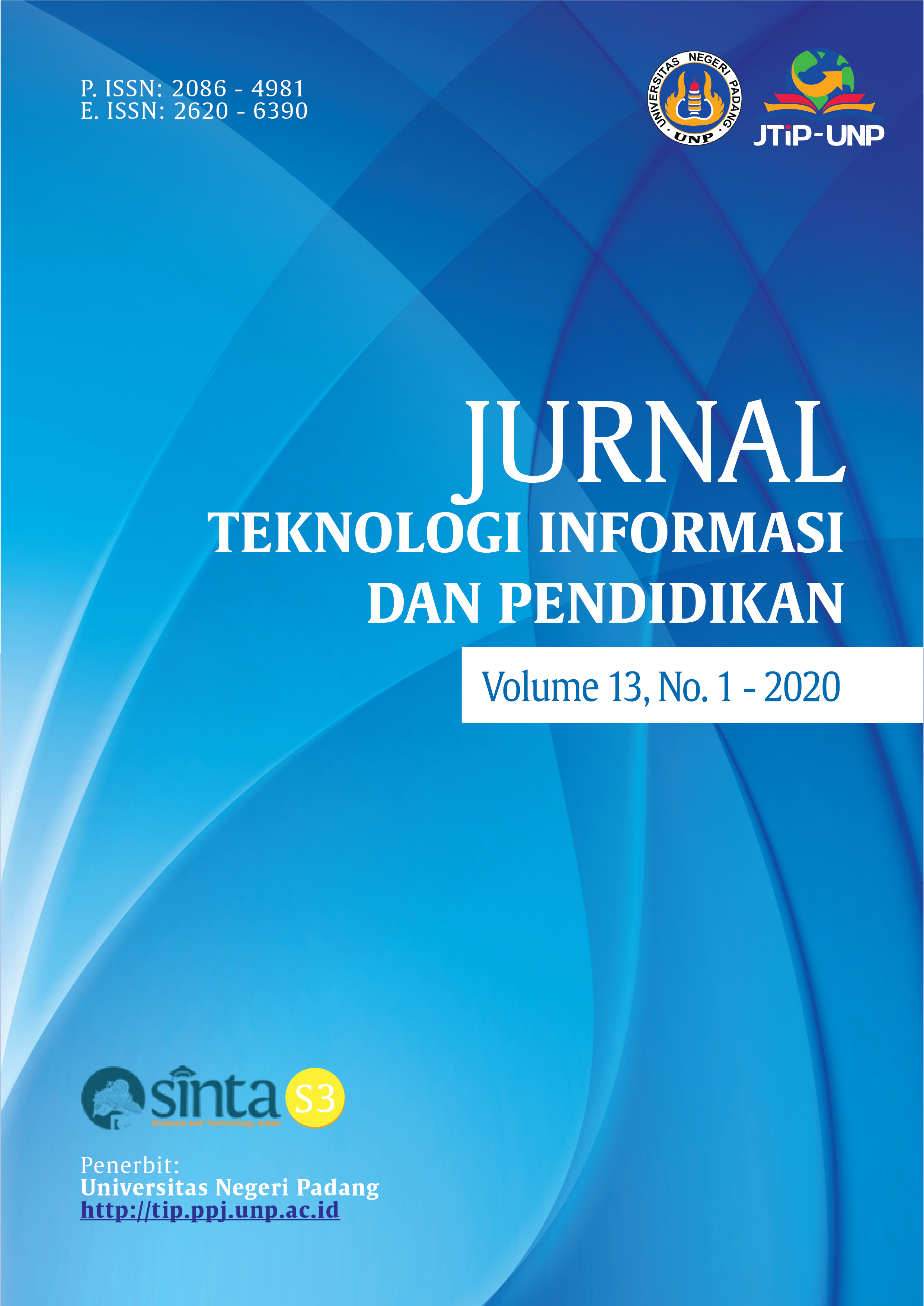 How to Cite
[1]
B. Fajri, A. Samala, and F. Ranuharja, "MEDIA INTERAKTIF PENGENALAN BAHASA ISYARAT BISINDO", JTIP, vol. 13, no. 1, pp. 35-44, Mar. 2020.
Copyright (c) 2020 Jurnal Teknologi Informasi dan Pendidikan
This work is licensed under a Creative Commons Attribution-ShareAlike 4.0 International License.

Abstract viewed = 767 times PDF (Bahasa Indonesia) downloaded = 386 times