PEMBELAJARAN BLENDED LEARNING BAGI GENERASI Z DI ERA 4.0
Agariadne Dwinggo Samala

Universitas Negeri Padang

Bayu Ramadhani Fajri

Universitas Negeri Padang

Fadhli Ranuharja

Universitas Negeri Padang

Resmi Darni

Universitas Negeri Padang
Abstract
The blended learning model combines f2f (face-to-face) learning with collaborative online learning classes. Blended learning is developed using Google classroom which has many features that strongly support digital-based teaching and learning. In addition, it also provides convenience for both lectures and during teaching and learning. Lecturers and students can carry out teaching and learning in the classroom and outside the classroom, discuss and communicate while they are connected through internet network. Lecturers can provide practical learning material in the form of e-books, e-jobsheets, video tutorials, and practice questions through cloud storage which is packaged in the form of digital content that can be accessed, studied and shared via internet anytime and anywhere by students. Blended learning is applied to the Programming Algorithm Practicum course. This research used R&D as the type of research, particularly in which a development method with ADDIE approach is applied. Moreover, the true experimental true experimental design approach (posttest only control design) is used to test the effectiveness of blended learning model. The results of this study proves that the implementation of blended learning is effective and efficient for teaching and learning process, especially for generation Z in higher education. The results of media and material validation are declared valid and suitable based on percentage of 81% ≥ v ≤100% with valid criteria, then the effectiveness of this blended learning can be seen from the results of the mid test and final test of the experimental group (Experiment Group) that was better than the control group (Control Group).
References
K. Moore, C. Jones, and R. S. Frazier, "Engineering Education For Generation Z," Am. J. Eng. Educ., vol. 8, no. 2, pp. 111–126, 2017.
L. C. Medina, "Blended Learning: Deficits and prospects in higher education," Australas. J. Educ. Technol., vol. 6, no. 1, pp. 60–73, 2018.
W. Prastiyo, A. Djohar, and P. Purnawan, "Development of Youtube integrated google classroom based e-learning media for the light-weight vehicle engineering vocational high school," J. Pendidik. Vokasi, 2018.
R. Murad, S. Hussin, R. Yusof, S. F. Miserom, and M. H. Yaacob, "A Conceptual Foundation for Smart Education Driven by Gen Z," Int. J. Acad. Res. Bus. Soc. Sci., vol. 9, no. 5, pp. 1013–1020, 2019.
R. Rastati, "MEDIA LITERASI BAGI DIGITAL NATIVES: PERSPEKTIF GENERASI Z DI JAKARTA," J. Kwangsan, vol. 6, no. 1, pp. 60–73, 2018.
D. Indriana, "Ragam Alat Bantu Media Pengajaram," Yogyakarta DIVA Press, 2011.
A. Samala, B. Fajri, and F. Ranuharja, "DESAIN DAN IMPLEMENTASI MEDIA PEMBELAJARAN BERBASIS MOBILE LEARNING MENGGUNAKAN MOODLE MOBILE APP", tip, vol. 12, no. 2, pp. 13-19, Dec. 2019.
Google, "What's new in Classroom," 2018. [Online]. Available: https://support.google.com/edu/classroom#topic=6020277. [Accessed: 22-Jun-2019].
S. Iftakhar, "Google classroom: what works and how?," vol. 3, pp. 12–18, 2016.
Sugiyono, "Metode Penelitian Kombinasi (Mix Methods," Bandung: Alfabeta, 2015.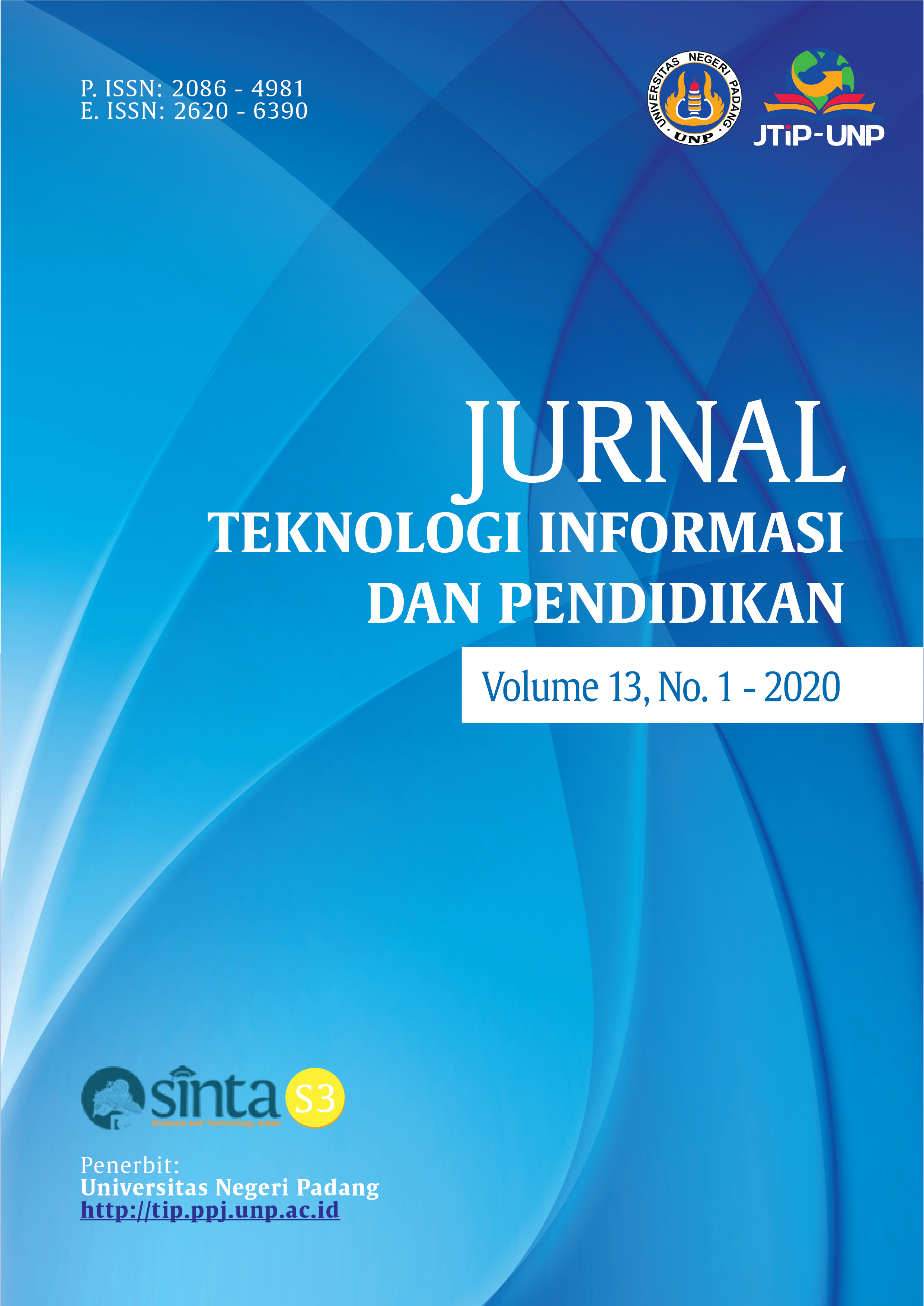 How to Cite
[1]
A. Samala, B. Fajri, F. Ranuharja, and R. Darni, "PEMBELAJARAN BLENDED LEARNING BAGI GENERASI Z DI ERA 4.0", JTIP, vol. 13, no. 1, pp. 45-53, Mar. 2020.
Copyright (c) 2020 Jurnal Teknologi Informasi dan Pendidikan
This work is licensed under a Creative Commons Attribution-ShareAlike 4.0 International License.

Abstract viewed = 1644 times PDF (Bahasa Indonesia) downloaded = 954 times