ANALYSIS OF FEASIBILITY LEVEL OF INTERACTIVE LEARNING MEDIA ON WORKSHOP WORK SUBJECTS AND TECHNICAL DRAWING
Hidayati Armi

Universitas Negeri Padang

Ika Parma Dewi

Universitas Negeri Padang
Keywords:
Feasibility Level Analysis
Abstract
This study aims to determine the analysis of the feasibility level of interactive learning media in Workshop Work and Engineering Drawing Subjects for Class X Audio Video Engineering at SMK Negeri 1 West Sumatra. The method used in this research is the descriptive method using quantitative and qualitative approaches. The types of data used in research are quantitative data and qualitative data. The research instrument in the form of a questionnaire was used to obtain data about the level of validity of learning media. This questionnaire was filled in by two material experts and two media experts. The aspects that are validated in this study are the aspects of content (material) and aspects of display (media). The data analysis technique used is quantitative descriptive analysis and qualitative descriptive analysis. The results showed that interactive learning media obtained an average score of 87% from both material experts and 84% from both media experts. Based on the results of these studies interactive learning media in Workshop Work and Technical Drawing Subjects are in the "Very Valid" category.
Keywords: Feasibility Level Analysis, Interactive Learning Media, Workshop Work, and Technical Drawing
References
A. D. Samala, B. R. Fajri, and F. Ranuharja, "DESAIN DAN IMPLEMENTASI MEDIA PEMBELAJARAN BERBASIS MOBILE LEARNING MENGGUNAKAN MOODLE MOBILE APP," J. Teknol. Inf. dan Pendidik., vol. 12, no. 2, pp. 13–19, Dec. 2019.
A. D. Samala, B. R. Fajri, F. Ranuharja, and R. Darni, "PEMBELAJARAN BLENDED LEARNING BAGI GENERASI Z DI PERGURUAN TINGGI (STUDI KASUS: PENDIDIKAN TEKNIK INFORMATIKA UNIVERSITAS NEGERI PADANG)," JTIP J. Teknol. Inf. dan Pendidik., 2020.
Mendikbud, Surat Edaran Nomor 4 Tahun 2020 Tentang Pelaksanaan Kebijakan Pendidikan Dalam Masa Darurat Penyebaran Corona virus Disease (Covid- 19), 2020.
I.P. Dewi, R. Sofya dan T. Sriwahyuni, "Pengembangan Media Pembelajaran Multimedia Interaktif Menggunakan Adobe Flash CS3 pada Matakuliah Media Pembelajaran Ekonomi yang Menerapkan Metode Project Based Learning". Jurnal Teknologi Informasi dan Pendidikan, Vol. 11, No. 02. Hlm. 72-79, 2018.
S.I. Purnama dan I.G.P Asto B, "Pengembangan Media Pembelajaran Interaktif Menggunakan Software Articulate Storyline pada Mata Pelajaran Teknik Elektronika Dasar Kelas X TEI 1 Di SMK Negeri 2 Probolinggo". Jurnal Pendidikan Teknik Elektro, Vol. 03, No. 02. Hlm. 275-279, 2014.
M. Yusuf, Metode Penelitian Kuantitatif, Kualitatif, dan Penelitian Gabungan, Prenada Media Group, Jakarta, 2014.
Sukardi, Metodologi Penelitian Pendidikan Kompetensi dan Praktiknya, PT Bumi Aksara, Jakarta, 2012.
E.P. Widoyoko, Teknik Penyusunan Instrumen, Pustaka Belajar, Yogyakarta, 2014.
Riduwan, Belajar Mudah Penelitian Untuk Guru, Karyawan dan Peneliti Pemula, Alfabeta, Bandung, 2009.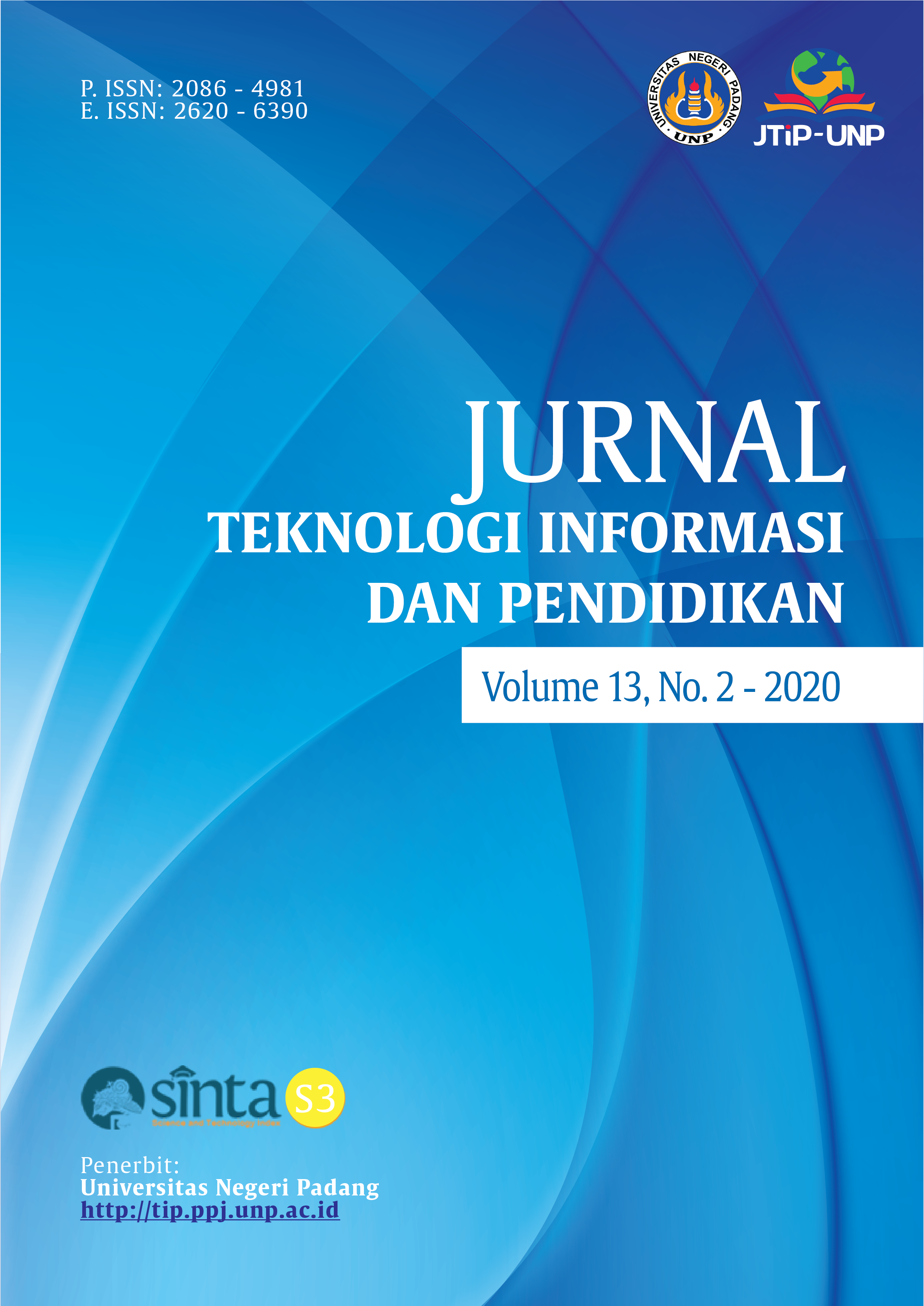 How to Cite
Armi, H., & Dewi, I. (2021). ANALYSIS OF FEASIBILITY LEVEL OF INTERACTIVE LEARNING MEDIA ON WORKSHOP WORK SUBJECTS AND TECHNICAL DRAWING. Jurnal Teknologi Informasi Dan Pendidikan, 13(2), 81-88. https://doi.org/10.24036/tip.v13i2.363
Copyright (c) 2020 Jurnal Teknologi Informasi dan Pendidikan
This work is licensed under a Creative Commons Attribution-ShareAlike 4.0 International License.

Abstract viewed = 58 times PDF downloaded = 30 times